Underfloor Heating Suppliers in the South
Nationwide delivery available serving the whole of the uk
What We Do
At Green Heat UK, our team will guide you through the underfloor heating installation process from start to finish. If you need bespoke design and advice, or complete supply, we have you covered. Our products in our range are available for collection or can be delivered the next day.
Tailored Design
Green-Heat UK offers a range of underfloor heating supplies to suit multiple applications or projects. With a comprehensive range of materials, offered at quality & fair prices. Order a bespoke, tailored system or individual UFH supplies such as pipes, controls, manifolds etc.
Supply
Our skilled technical team is here to offer in-depth guidance regarding flooring choices, layout planning, and product selection. We can also provide complete project design and pricing. Whether you have basic plans to share or need a site visit, we're flexible and ready to assist.
Installation
We have almost 20 years of expertise to oversee all aspects of installation, testing, and commissioning. Our team, comprised of commissioning engineers and UFH specialists, can collaborate closely with you and your contractors to seamlessly integrate into your project.
About Us
With just under 2 decades in the industry, Green Heat UK is one of the souths leading suppliers of Underfloor Heating to both tradesman and domestic homeowners. We have a great team behind us in the office, so we can insure that every part of your process is slick and easy!
We specialise in supplying both domestic and commercial meaning nothing is out of our reach! We take pride in our work and we know we can do it for the best value yet the highest quality, that's why we have a price match guarantee!
If you are deciding to heat your home with Underfloor heating, know we have you covered!
TRADE & DOMESTIC PROVIDERS
Green Heat UK are proud to provide underfloor heating to developers, traders and direct to homeowners.
Set up a trade account today and get in touch
UNDERFLOOR HEATING SPECIALISTS
Modern underfloor heating systems are gaining popularity due to their numerous advantages over standard radiator systems. In simple terms, a robust and flexible pipe is laid in a series of loops beneath the floor. These loops are connected to a central manifold above ground, which is in turn linked to the overall heating system. The manifold blends warm water to the correct temperature and circulates it through the underfloor pipework. This effectively transforms the entire floor into a large, efficient, and concealed heat source. Underfloor heating installation is a process using various properties using different flooring systems.
Key Benefits of Underfloor Heating Systems
Efficiency
Underfloor heating boasts an efficiency that can be up to 25% higher than traditional radiators.
Comfort
Heat gently emits from the floor and can feel warm underfoot in those cold, winter months.
Space Saving
There are no need for radiators with UFH
Control
Control different rooms temperatures with controls.
Allergies
Heat from UFH, means less movement of dust particles in the air.
Flexiblity
Numerous options for UFH in any type of property.
Eco-Friendly
UFH is designed to run at a lower temperature to radiators.
Renewable
Combining heat pumps & other solutions, you can rest assured underfloor heating is eco-friendly.
TYPES OF UNDERFLOOR HEATING SYSTEMS
As expert underfloor heating suppliers, we can advise on the different types of UFH systems that may be beneficial to your project, here are the variety of systems we supply across the south coast.
Solid Floor System – Rails & Clips
The underfloor heating pipes are securely fastened to pre-installed insulation, such as Celetex, using either 60mm clips, adhesive-backed clips and rails, or a combination of both. After laying and conducting pressure tests, the pipes are encased in an approximately 60-65mm layer of screed. This method is widely recognised as one of the most effective forms of underfloor heating due to the excellent heat conduction and heat retention properties of the screed layer.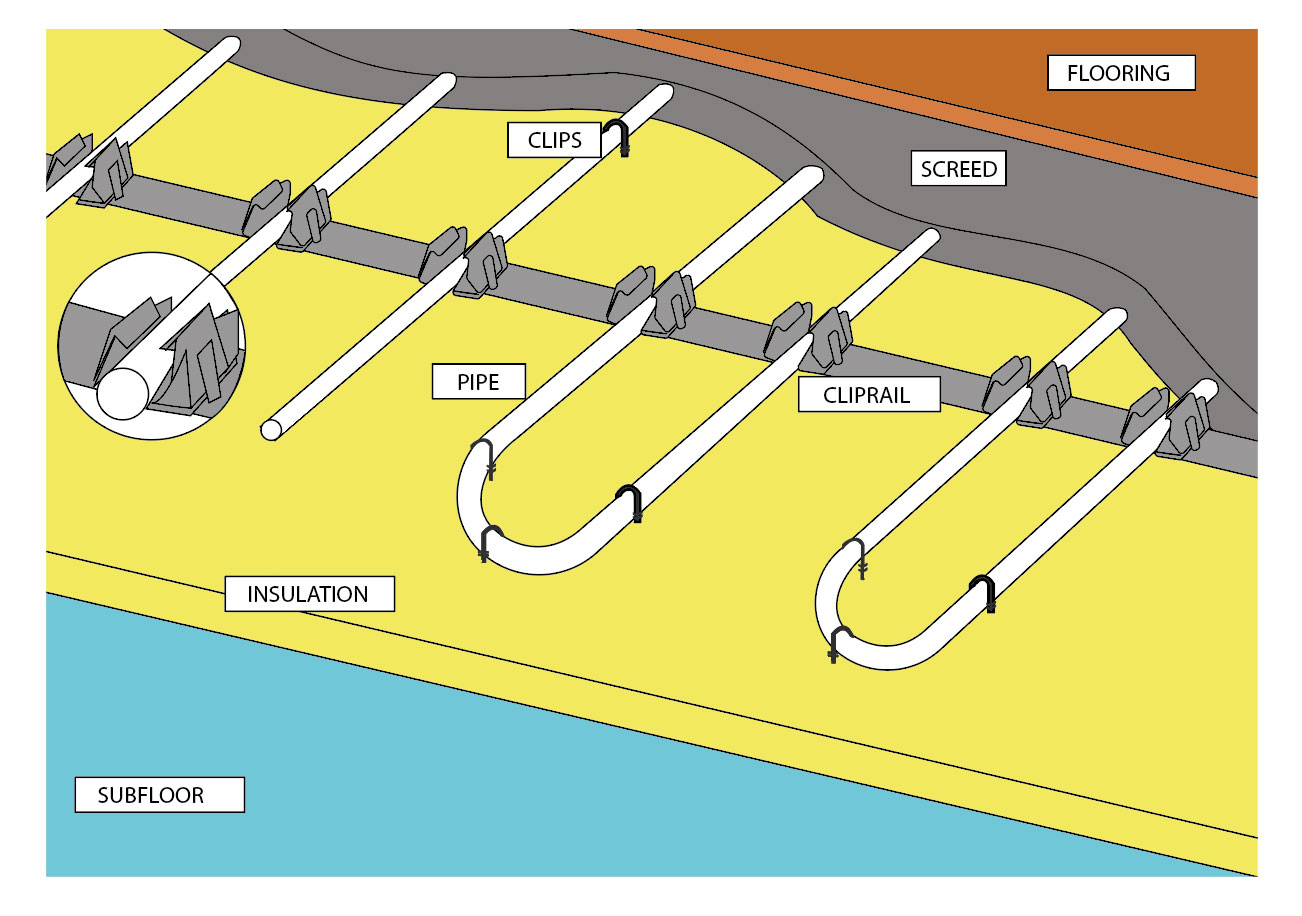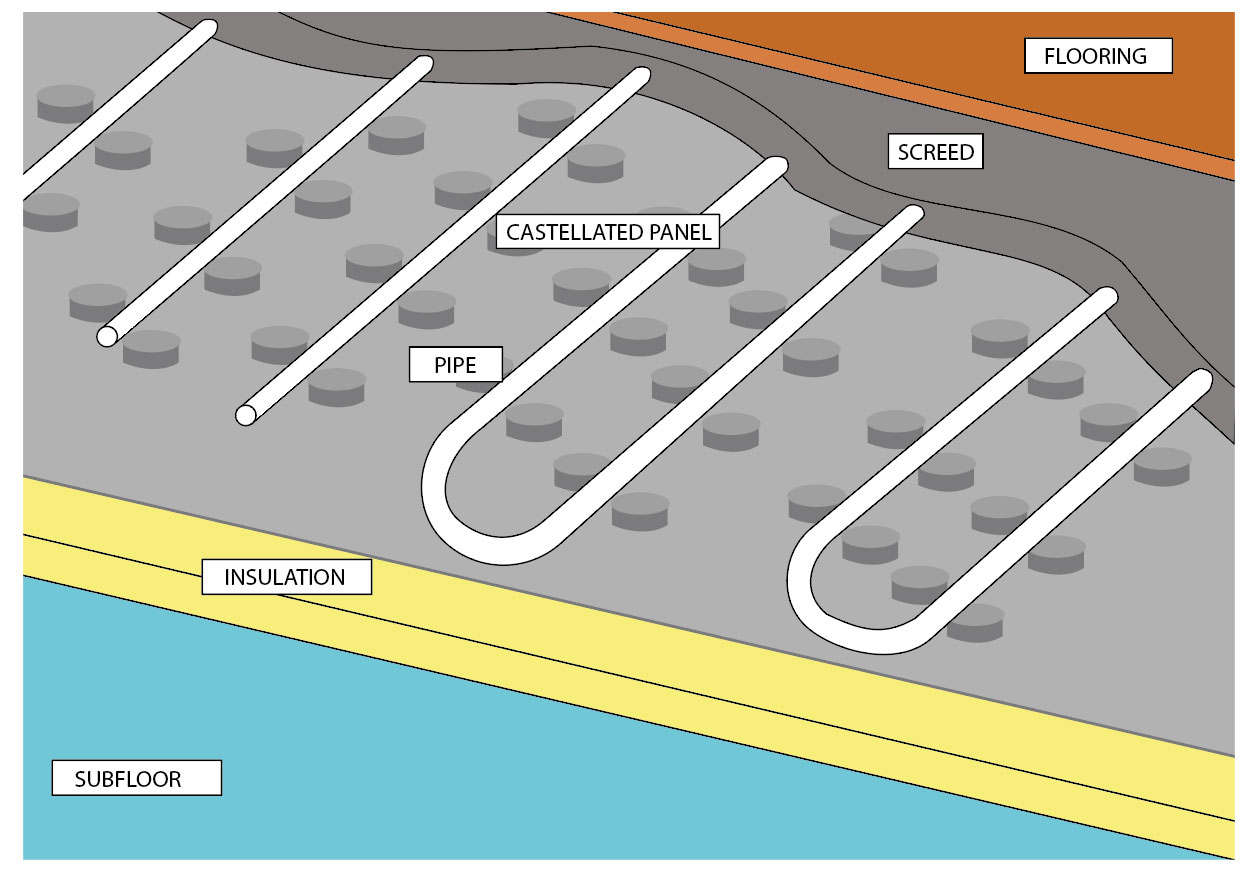 Solid Floor System – Fixing
An alternative to the Clips and Rail system is to utilise Castellated Panels or Fixing Panels to secure the underfloor heating pipes in place. Following installation and pressure testing, the pipes are typically encased in a 60-65mm layer of screed.
This method is widely acknowledged as one of the most effective forms of underfloor heating, thanks to the exceptional heat conduction and heat retention properties of the screed layer.
Castellated panels can also be equipped with a thin layer of insulation on the underside for cases where additional floor insulation is necessary. As one of the South's leading underfloor heating suppliers, we can assist with any guidance needed.
Heated Floors – Plate System
Aluminium diffuser plates are employed to secure the pipes and distribute heat evenly in timber joisted floors. In cases where the original joists are primarily set at 400mm intervals, it's possible to lay the plates directly between the existing joists, resulting in minimal floor-level elevation.
Any notching of existing joists must adhere to building regulations. It's advisable to ensure that the plates are in direct contact with the floor decking, and insulation is needed below to prevent downward heat transfer.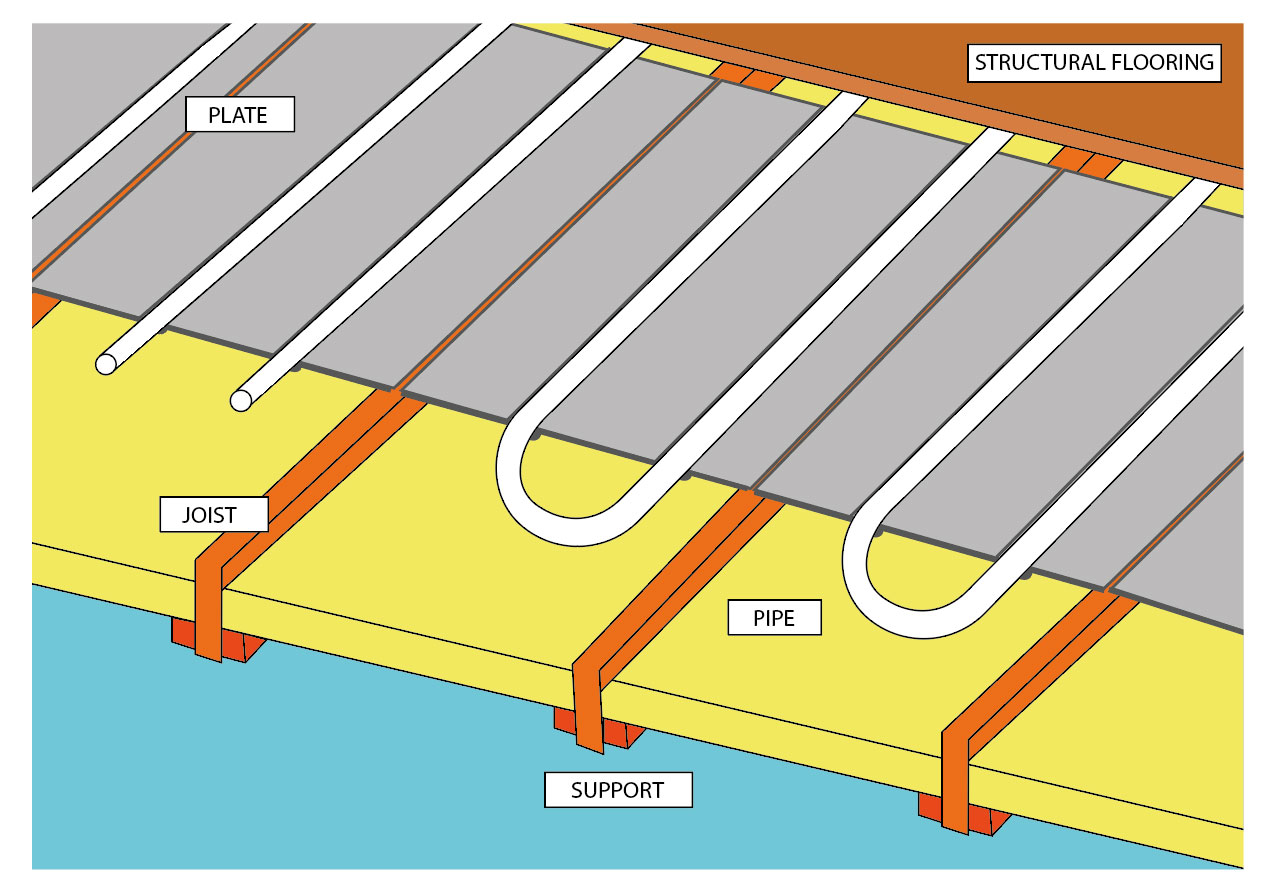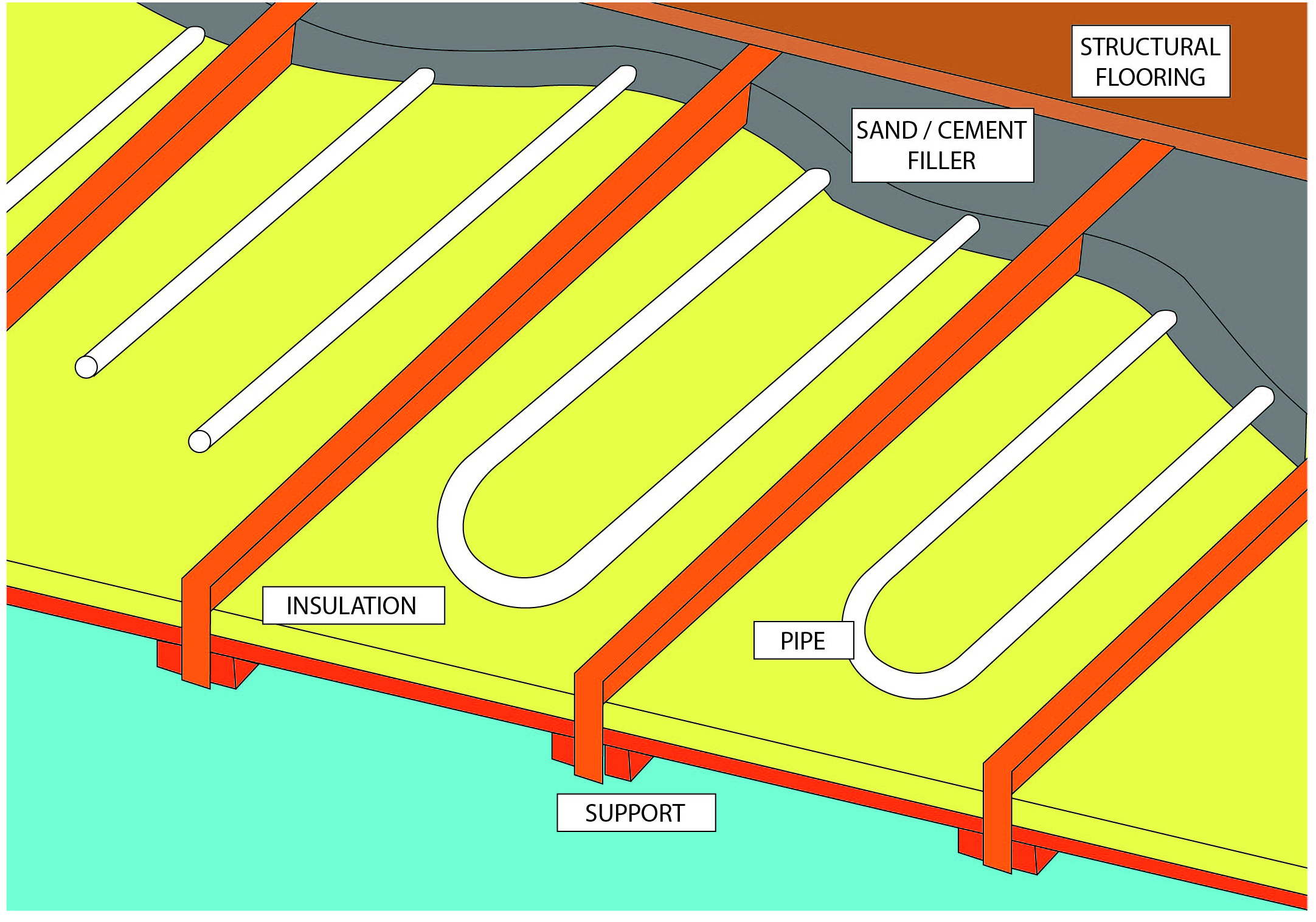 Heated Floors – Pug System
An alternative to the plate system is the 'Pug' system, which comes in handy when joist spacing is irregular or not at the correct intervals, and raising the finished floor level is not feasible. This method may require more effort during installation but delivers excellent results on a suspended floor.
It operates similarly to a screed, with the sand/cement mix acting as an efficient conductor and thermal store. Support beneath the insulation is necessary, and a sand/cement mix is applied over the pipes and between the joists.
Overlay Light System
These underfloor heating systems feature 1250x600x20mm foiled XPS insulation panels, carefully routed to accommodate 16mm pipes set at 150mm intervals with three cross runs. These high-quality panels are ideal for floating floor applications and are not intended for direct tile installation.
It is considered best practice to apply a levelling compound to the floor substrate before laying the panels. Following this, you can install either structural floor decking or suitable engineered wood/laminate flooring.
Transit panels set at 50mm intervals are also available to simplify installations. (Typically, you'll need approximately 1.5 panels per 1 square meter.)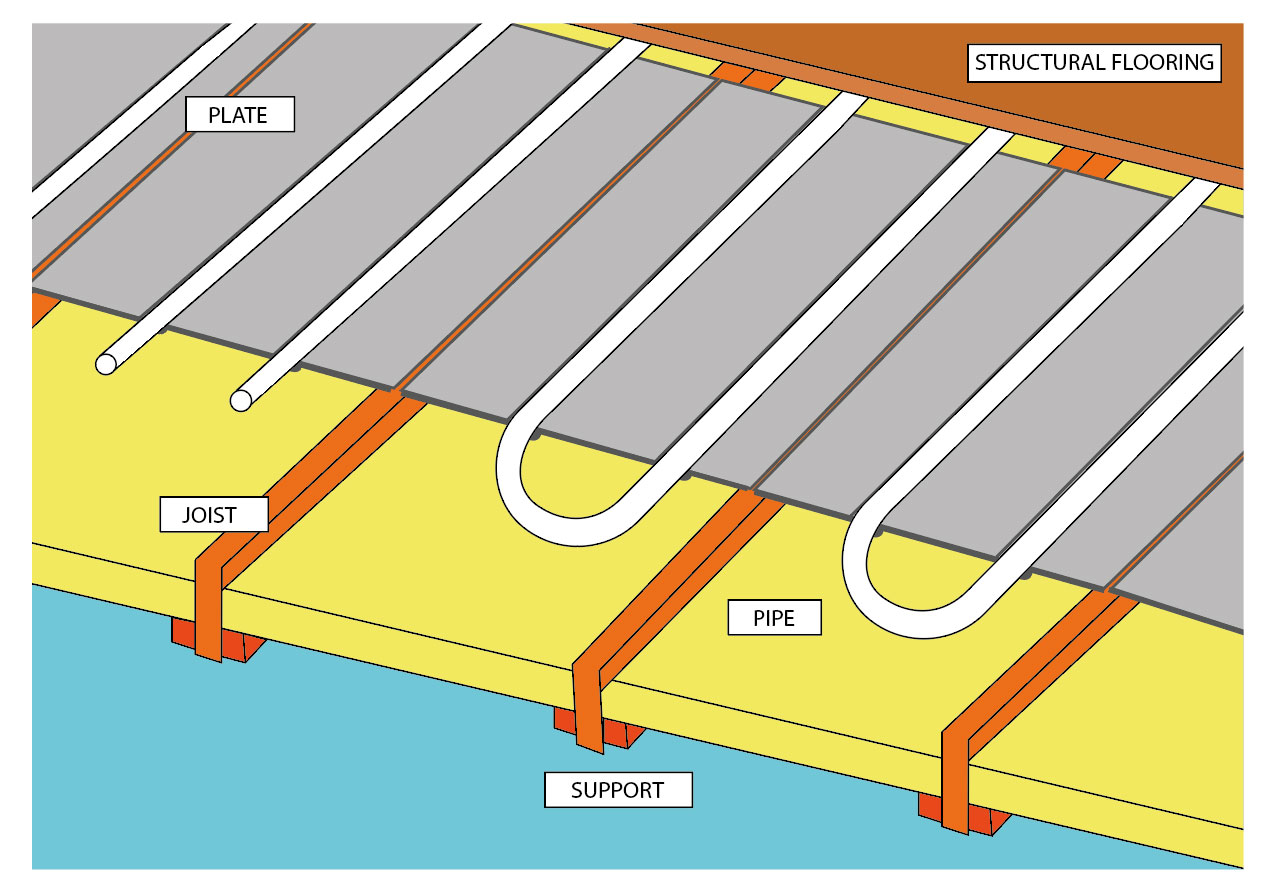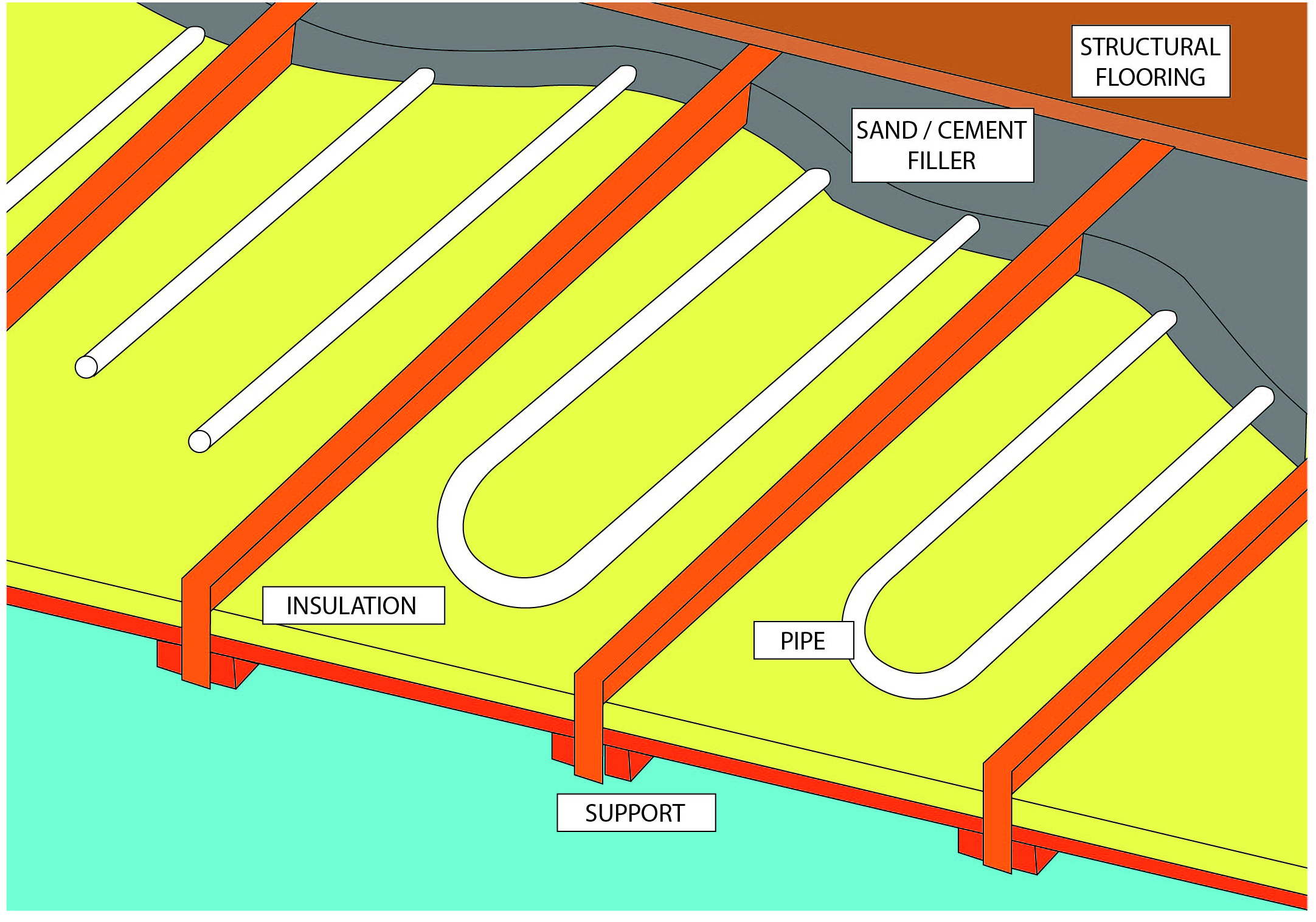 Overlay Light Heated Floors – Overlay Solid System
The Overlay Solid System consists of 1200x600x20mm cement-faced XPS insulated panels, designed for 16mm pipes set at 200mm intervals. These panels require a sturdy base and should be securely attached using a flexible tile adhesive before laying the pipes.
Once in place, these panels are suitable for tiling, with flexible tile adhesive again being used for the tile installation. Transit panels set at 50mm intervals are also offered to facilitate the installation process. (Typically, you'll use about 1.5 panels per square meter.)
Our Underfloor Heating Supply Process
Leveraging nearly two decades of expertise, our team is well-equipped to guide you in selecting the most suitable products for your needs. Given the multitude of underfloor heating suppliers available, choosing high-quality and appropriate products for your project can be challenging.
At Green Heat UK, we've got you covered with both our Premium and Trade product ranges, accommodating various budgets.
Our quotation process is thorough, including a project sheet that meticulously outlines the zones and loops required. Additionally, for those seeking a detailed visual plan, we offer the option of a scaled AutoCAD pipe layout for an additional fee.
And if you're already well-versed in your requirements, we also offer individual parts, ensuring you have access to precisely what you need.
If you know what you need, then we also supply individual parts.
TRADE & DOMESTIC PROVIDERS
Green Heat UK are proud to provide underfloor heating to developers, traders and direct to homeowners.
Set up a trade account today and get in touch
Office Address:
Flat 12 Dorset House, 42 The Avenue
Poole
BH136HE
Office Address
Green Heat UK Ltd,
Flat 12 Dorset House
42 The Avenue
Poole
BH136HE
co. Number: ZB095740
Matthew - 07881705913
Khaled- 07437566446
Our Systems
Solid Floor System – Rails & Clips
Solid Floor System – Fixing
Heated Floors – Plate System
Heated Floors – Pug System
Overlay light System
Overlay Light Heated Floors – Overlay Solid System
All calls are recorded for training and compliance purposes