Underfloor Heating Supplier
and Installations
Contact us for a free quote
Book Your Underfloor Heating systems
Whether you are a tradesman or a domestic homeowner, we can help.
Underfloor heating supplier
Tech support from our specialist engineers
on site emergency delivery to tradesman accounts
About
Green Heat UK is a growing business that specialises in the supply of high quality underfloor heating systems.
Since Green Heat UK have been established, our clients have ranged from property developers, main building contractors and plumbing and heating engineers; to smaller independent builders.
Our team offer a friendly and professional service and has over twenty years experience within the underfloor heating industry. We are very happy to discuss any underfloor heating requirement and site visits can be arranged where required. Quotations can be provided without obligation upon request.
At Green Heat we have a Price Match Guarantee as we do not believe that we won't just be beaten on service, we believe that we will not be beaten on price either.
Green Heat UK take great care to source products from leading manufacturers such as Watts, Grundfoss, Reliance and Danfoss. Products are selected on the grounds of quality and value, and are amalgamated to create a reliable and affordable underfloor heating system.
The heart of any underfloor heating system is the pipe. At Green Heat UK we utilise a high quality multilayer pipe.
This pipe consists of an inner and outer layer of polyethylene, layers of adhesive and a layer of aluminium. This strong and flexible pipe is ideal for underfloor heating, has WRAS approval with EVOH 4726 and typical rating of 10 bar at 70ºC.
Manufactured within the European Union, the pipe is subjected to rigorous testing and is backed by a manufacturers insured warranty.
Key differences between underfloor heating and Radiators
Central Heating with radiators was introduced in the 1930s and has since been used as the standard heating system for UK homes while remaining more or less unchanged for the past 8 decades. More recently, Underfloor Heating is now being used in UK houses as the heating system of choice, offering unrivalled comfort and luxury. Below, you will find a comparison of these two systems, and an explanation of why we feel that Underfloor Heating is the best solution for heating a home.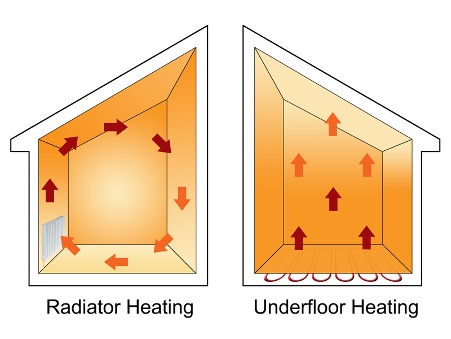 Heat Distribution
Your choice of a heating system determines the way heat is distributed in your home. Underfloor Heating produces radiant heat which makes you feel warm and comfortable. The term radiant heating is used as radiation is responsible for a significant proportion of the 'thermal comfort' achieved by this form of heating.
Traditional Convection Heating Systems cause large amounts of constantly rising and falling air, creating drafts and dust circulation. This heating system is also more uncomfortable compared to Underfloor Heating as the heat is usually coming from the wall, resulting in your feet remaining cold and your upper body hot.
Read More
Underfloor Heating runs at lower temperatures than radiators due to the increased surface area, and it is also more comfortable as the heat is coming from the floor. This keeps your feet warm and your upper body at a comfortable temperature.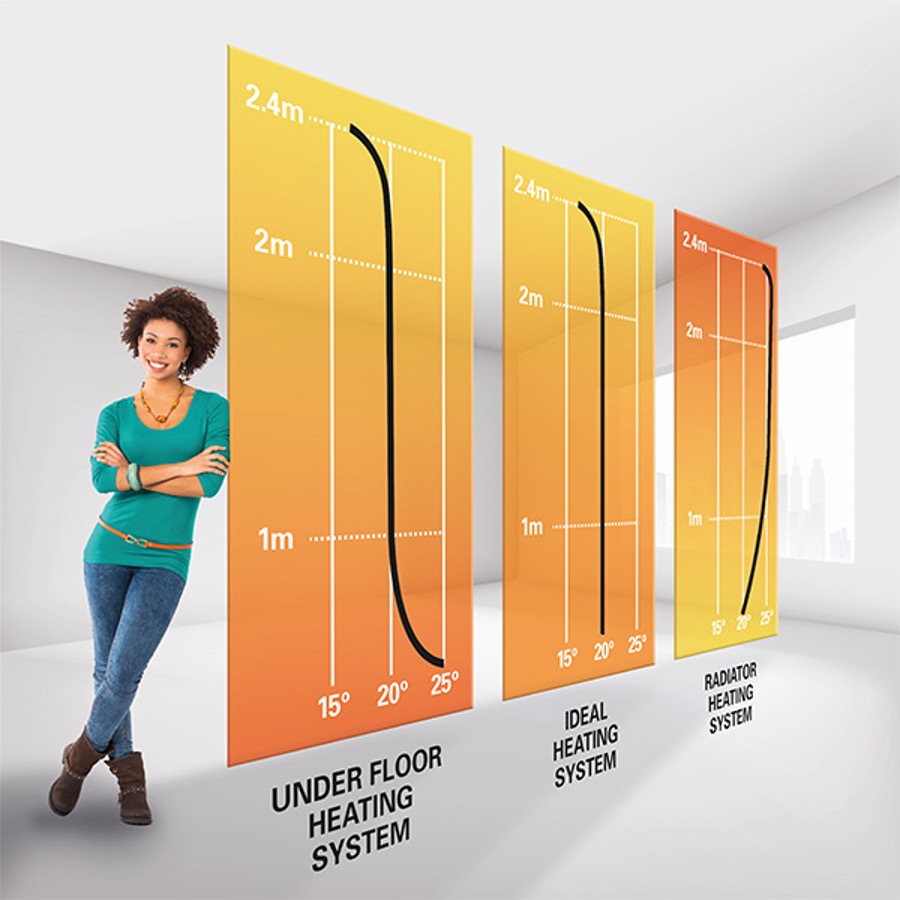 Heat Distribution
The way the heat is distributed impacts the efficiency and comfort of the heating system. Radiant heat heats objects directly and it maintains the natural humidity in a room, whereas convection of warm air tends to reduce humidity, which can make the heated area feel stuffy.
Read More
If the whole floor of the room is heated then radiant heat gives a very even spread of heat, whereas conventional heating heats one area initially and then takes time to circulate to reach the required comfort levels.
Rising air temperature through conventional heating can cause discomfort and overheating, which in turn can reduce oxygen levels and cause breathing problems if the air is too warm.
Radiant floor heating distributes even heat where it is needed which means there are no cold spots, it reduces the risk of overheating the body and it is as close as you can possibly get to the ideal heating system for your home.
Underfloor Heating also gives the same heat output as a radiator system at a lower temperature, while using 15% to 20% less energy. This makes Underfloor Heating more efficient and ultimately ends up being cheaper to run.
Underfloor Heating is also safer for children and pets due to the fact that there are no exposed heating elements or radiators. Radiators in particular can get very hot, and it is very easy to scald yourself if you're not careful.
Because the floor surface stays at a comfortable temperature with Underfloor Heating, it makes it ideal for babies trying to find their feet, and it also makes it perfect for pets with aches, pains or joint problems.
If you need any advice or have any questions, feel free to get in touch and we will be glad to help.
Office Address
Green Heat UK Ltd,
The mill house,
7 carbery lane,
Bournemouth,
BH6 3QG
ico. Number: ZB095740
Telephone - 07534474099
info@greenheat-uk.co.uk
Our Services
Boiler Repairs
Boiler Service
Underfloor Heating Specialists
All calls are recorded for training and compliance purposes